Transportation
Seattle has a variety of transportation options from the Sound Transit commuter train, to city buses, to ferries and Water Taxis that carries passengers across the Puget Sound. Below are some helpful links for planning your daily commute or other travel around Seattle.
ORCA Card
All full-time students at Seattle Central have the option to purchase an ORCA Card, a regional public transit pass.
Orca gives access to:
- Metro Bus
- Link light rail
- Streetcars
- Water Taxi
- Sounder Train
- Other regional transit (Pierce Transit, Kitsap Transit, Everett Transit)
Complete orca card information is available here.
Bus Service
Several city buses stop within blocks of Seattle Central coming from all directions.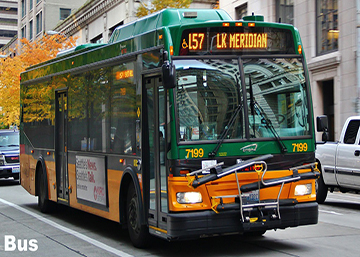 Current Metro bus schedules and fares
For students who are new to the Seattle Metro region or to commuting by public transit, videos on how to ride the bus and pay for trips are available in English, Amharic, Arabic, Burmese, Cantonese, Korean, Mandarin, Nepali, Russian, Somali, Spanish, Tigrinya, and Vietnamese.
Link Light Rail
Seattle offers a light rail from Sea-Tac Airport, through south Seattle, downtown Seattle and Capitol hill up to the University of Washington. The Capitol Hill station is just 1/2 block north of Seattle Central's main building. Light rail is the quickest way to get downtown from Seattle Central.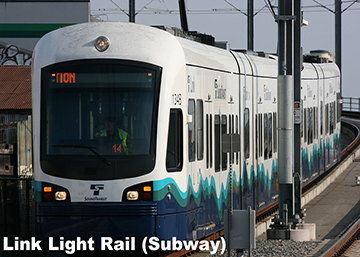 Streetcars
Seattle currently has two street car lines:
- First Hill (Capitol Hill to Pioneer Square via Broadway, Yesler and South Jackson Street)
- South Lake Union (Downtown to Lake Union via Westlake Avenue).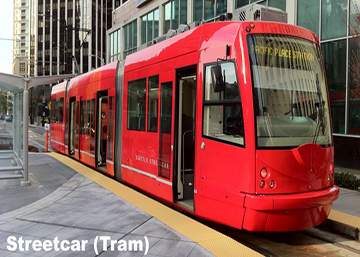 Ferries
Washington State Ferries offer daily commuter service to islands and cities around Puget Sound.
Water Taxi
King County offers water taxi service (walk-on only) between West Seattle and Downtown Seattle, and between Vashon Island and Downtown Seattle.
Trip Planning
The following links can help you plan trips on public transit in and around the Seattle area: