Robertus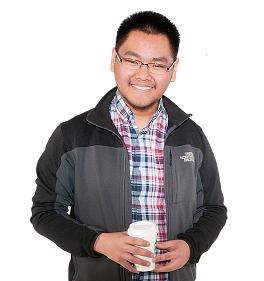 Name: Robertus Anders
Home Country: Indonesia
Major: International Relations
1. Tell us a little bit about yourself.
I come from the capital city of Indonesia: Jakarta. I have always loved being in a big city because of its accessibility and convenience. Before studying in the U.S., I studied briefly in Sydney, Australia and gained a big interest in languages and exploring different cultures. In my spare time I enjoy going to the cinema with my friends and eating a western-style dinner afterwards. As a lover of coffee, I frequently visit various coffee shops to unwind and relax. That is why living in a city like Seattle is perfect for me. In my opinion, Seattle is similar to Jakarta because these two cities are capitals of coffee culture.
2. Why did you decide to attend Seattle Central?
I grew up in a multicultural society. Because of this, I wanted to immerse myself in a diverse society where I can learn both inside and outside the classroom. This is why I decided to attend Seattle Central Community College. At first, I was unsure of attending a community college. I thought that Seattle Central would have a limited amount of classes. However, my prejudgments of Seattle Central proved to be wrong. As I perused deeply through Seattle Central's website, it turned out that Seattle Central housed tons of diverse classes for my own choosing. Because of this, and the fact that the college itself is located near downtown Seattle, I confidently chose Seattle Central as the starting point in my college education.
3. What has been your experience in being a part of Seattle Central or being involved in the community?
So far, being a part of the Seattle Central community has been a perfect and satisfying experience. The Student Leadership body in Seattle Central houses a plethora of clubs and committees. Because of my eagerness to be active in college, I decided to join many clubs. Some of the clubs and committees I joined include The Multicultural Events Committee, Seattle Central Indonesian Club, and many more. Also, I got the chance to join and become an officer of Phi Theta Kappa--an honor society in Seattle Central. Joining Phi Theta Kappa was a fantastic opportunity because I got the chance to be involved in organizing and attending several projects and events around Seattle. This organization opened so many windows of opportunity for me to develop my leadership and communication skills.
4. What are the biggest differences between the culture in your country compared to life in Seattle? How did you adjust?
The biggest difference that I see between my culture and the American culture is how people encounter one another. In the U.S., strangers on a bus, on a coffee shop, or on the street are very open in conversing to one another in a very friendly manner. In Indonesia, strangers mainly ignore each other because, well, they are strangers. For this reason, I had to improve my ability to hold small talks with various different people around me.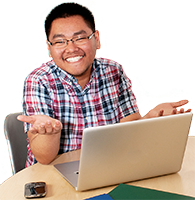 5. What are your future plans after Seattle Central?
After getting my A.A. at Seattle Central, I plan to transfer to a four-year university to further my education in International Relations. Also, I would like to volunteer in different organizations so that I can gain concrete experience involving multiculturalism and politics. On top of that, I plan to further my education again by gaining a postgraduate degree in another country. As of now, I am still contemplating on what I want to do as a means to make a living. However, I am sure that my future will unfold naturally and positively.
6. What things have you done to reach your personal and academic goals?
Personally, I had to change my attitudes toward homework and projects by avoiding procrastination at all times and organizing a system where I could balance my studies and my social life. Getting good grades are important in achieving my personal and academic goals. Therefore, I sometimes had to sacrifice an hour of Kinect for an hour of math questions. Even though it could be arduous at times, I still know that I have used my time wisely so that I could be one step further in reaching my goals.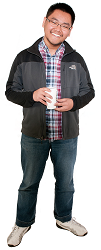 7. How has studying abroad changed you?
Studying abroad has shaped me into a more mature and responsible adult. Living alone in a foreign country can be really frustrating at the beginning. Apart from studying and socializing, there are a load of personal chores to be done inside the house. Because of this, time management became a huge priority in my daily life. I have become more aware of what I should do at what hour of the day and more responsible for my own actions.
8. What are your favorite things to do in Seattle?
I love to hang out in the University District with my friends, go on a culinary escapade in Belltown, and enjoy a cup of coffee in one of many Starbucks locations around Seattle. One of my favorite places is the restaurant "Local 360". It offers local and organic food and I always enjoy a mouthwatering meal there. There are many things to do around Seattle, but I think that nothing beats the enjoyment of having a perfect cup of coffee with the perfect group of friends.