Maria Laura



Name: Maria Laura Parra-Calderon
Home Country: Venezuela
Major: Business
1. Tell us a little bit about yourself.
Optimism is my first thought. Looking beyond and finding the positive side of a story is how I identify myself. I am very dedicated, love responsibilities, and enjoy offering help to the world. I believe that to reach your own goals you have to help others reach theirs first. I'm in love with working to achieve my goals and feeling productive. I am passionate about sharing a positive energy in my environment.
2. Why did you decide to attend Seattle Central?
I decided to attend Seattle Central because my brother encouraged me to attend. He is an alumnus of the Seattle Culinary Academy. So I decided to give it a try. My surprise was that I indeed fell in love with the school.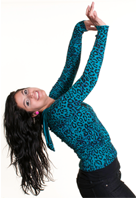 3. What has been your experience in being a part of Seattle Central or being involved in the community?
Being part of the Seattle Central community has definitely changed my life. I've had the opportunity to meet excellent teachers, coworkers, Student Leadership members, my best friends, other Latinos, other races and other cultures. Being part of Seattle Central has opened my mind and helped me find a place to belong in a new country.
4. What are the biggest differences between the life style in your country compared to life in Seattle? How did you adjust?
One of the biggest differences I notice between my country and Seattle is that here there is a greater feeling of safety. I can rely on the technology in the street signs, the schedules for the buses and feel relatively safe walking around the city. This sense of safety enables me to focus on school, enjoying life, making new friends and learning more about my new community, which has helped me to adjust. The only thing I really miss is the warmth of the people. In Venezuela, people are more cheerful, they touch each other, they hug each other but it's good that I found friends here who I can identify with.
5. What are your future plans after Seattle Central?
I am planning to go to a 4 year University either here in Seattle or California. I will finish my major in Business with a minor in Nutrition. After I graduate from Nutrition, I plan to work in a hospital or in a clinic to gain experience and after 4 – 5 years open my own clinic. I want to specialize in dietetic. It is a study for prevention of obesity or if people want to lose weight and care for their diet. In Venezuela, people care a lot about how they look so that is one of my inspirations. Another reason is that when I came to the United States, I saw that much of food here is so processed. So I got more into organic food and it really has inspired me to help people with their health.
6. What things have you done to reach your personal and academic goals?
I had to leave my country and separate from my family and the friends I grew up with. Even though it was hard, I overcame feeling sad and decided to be grateful for having a safe and successful life. I believe that when one door closes, others open for better things. Every time I have to do some thing I need to write it down. I am very organized in that way. Also, the school gave me a calendar so I write things down in colors and I set an alarm on my phone as well which reminds me to do the work every time. It keeps me on track to pursue my goals.

7. How has studying abroad changed you?
I have definitely grown up. I now know where I am going and what I want for my future. I fell in love with working to achieve my goals and I have so much strength to continue that I won't give up until I reach all of my dreams. As for the personal growth, being apart from your family makes you have to do everything by yourself such as food and laundry. In that respect, you change a lot.
8. What are your favorite things to do in Seattle?
There are so many beautiful views in Seattle that I love to go out and watch and admire nature. It's so green that it feels healthy. Also, when the sun is out I love to walk and enjoy the city and it's even better if I'm in company of the friends (my new family) that Seattle and God have blessed me with.