Ksenia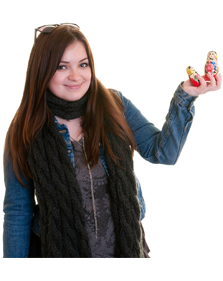 Name: Ksenia Perevozchikova
Home Country: Russia
Major: Communications/Public Relations
1. Tell us a little bit about yourself.
I'm an international student from Russia, and I have spent 2 years in Seattle, which changed my view on different things such as I started to like coffee. I like spending time with my friends after classes and to do some fun activities on weekends. I enjoy being outdoors lying in Cal Anderson Park. I love travelling! Even being in one city such as Seattle, you have a chance to experience quite different atmospheres in the various neighborhood areas. For example, U-district for me is fun and energetic, Green Lake is cool on a sunny day, Ballard is good for chilling, Alki Beach is my favorite place to play volleyball and Golden Gardens is a must for barbeques.
2. Why did you decide to attend Seattle Central?
Back in Russia, one day I was researching colleges in the US and found Seattle Central's "College of the Year" award. At that time all I knew about Seattle was rainy weather and the famous movie "Sleepless in Seattle". I gave it a try and here I am now.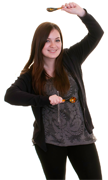 3. What has been your experience in being a part of Seattle Central or being involved in the community?
Seattle Central provides a lot of opportunities for international students to get involved in college life. It's important to be involved which helps you to fill your spare time having fun, meeting new people, making friends and helping the community. For example, I'm a member of the honor society Phi Theta Kappa and we have different activities that help our community and involve volunteer work. We meet every Friday and discuss the urgent issues and how we can help the community. If you have an opportunity to come to SCCC, it will be a very good decision. I encourage people to go and study abroad because it will change their lives totally.
4. What are the biggest differences between the life style in your country compared to life in Seattle? How did you adjust?
I think the difference between people and hospitality is the most noticeable one. Here, in the US, especially West Coast, people are super friendly and very liberal. I'm not saying it is safe to walk at night in Seattle Downtown alone, but if you are lost or need help, people around you will definitely offer their help. Also, when I first came to the US, I noticed that people here simply love to talk. They talk everywhere about everything with everyone. Whether you standing in line or waiting for the bus to come, there will be at least one person that's going to have a conversation with you. Coming from a different culture, a more restricted one, I learned how to keep up a casual conversation with a stranger, which is a plus for my speaking skills.
5. What are your future plans after Seattle Central?
I am still researching about my future plans, but for now after graduating from SCCC I'm planning to transfer to a 4-year school to finish my Bachelor's degree. I'm majoring in Communication studies and would love to find a job after getting my BA here in the US. I would like to work for a magazine or a TV show. I like organizing and event planning. I think it combines fun work and interacting with people. I sometimes organize parties here as well and have planned surprise parties for my friends.
6. What things have you done to reach your personal and academic goals?
Learning, working, improving; these words mean a lot to me. Doing these three things help me to grow as a person as well as never stopping on something you've already achieved. I try to make the process of studying more enjoyable. For example, I like going to coffee shops to do my homework with friends or enjoying the sunny day in Seattle by lying in Cal Anderson Park on the grass and studying.

7. How has studying abroad changed you?
Being an international student and working part-time for the college has given me a new perspective on life. Without a doubt, I have become more responsible. Studying abroad has changed me because my views on life issues have broadened. I have learned a lot about the world and met alldifferent kinds of people. When I first came to Seattle I was totally alone and didn't make friends for about a month. I had to make many decisions and the experience has made me stronger. I ended up staying with a host family and it helped me a lot. It's also good to join clubs and make friends in classes and even in coffee shops. Thanks to my parents, friends, and family I can continue my education here. Being here I have become more open to other cultures and people and have learned a lot from meeting many people from around the world.
8. What are your favorite things to do in Seattle?
I love going out with my friends. We like to hang out in Tully's coffee shop down the street and Panera bakery right across the street from the college. When it's raining (which happens a lot but I have gotten used to it and like it) it's good to have cup of coffee and sit near the window whether at home or at the coffee place and enjoy the moment.