Hio Pui



Name: (Candy) Hio-Pui Lam
Home Country: Macau
Major: Communications
1. Tell us a little bit about yourself.
I am an international student from Macau; a small city in Asia. I am pretty talkative. I say this because I can talk for a few hours nonstop and its fine for me. When I was small I liked to play piano but as I grew up I had lot of other things to do so I didn't continue with my practice. Now, my hobby is hanging out with friends and sleeping.
2. Why did you decide to attend Seattle Central?
I decided to attend this school because it is located in a great place; it takes only 10 minutes walking to reach downtown. It is also a college with students from a lot of diverse countries which made me think it would be a better place to be educated.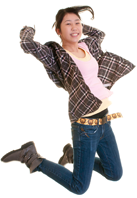 3. What has been your experience in being a part of Seattle Central or being involved in the community?
The college encourages us to have extra curricular activities and it makes me feel like I am part of Seattle Central because I have joined some of the clubs offered at the college and been involved in the yearly Unity Fair. As a member of a club, I participate in the events and suggest options for our club to organize events. I am also the President of the International Student Union club. And every year around May the "Unity Fair" is held which allows students to represent their clubs and it joins all the college clubs together.
4. What are the biggest differences between the life style in your country compared to life in Seattle? How did you adjust?
In my own country, we can only join the clubs created by teachers but not ourselves. Life here has more freedom. It also provides me more chances. I see these differences between my home country and Seattle as a good challenge. The first day I came here, I didn't know anyone and my host family came to pick me up at the airport. My host family was an Indian family which was a shock for me but I do like them. It's just that it wasn't what I had expected. I've learned a lot about the diversity of the US from it.
5. What are your future plans after Seattle Central?
Right now I am studying communications but when I transfer to a 4 year university, I may double major in Communication and Casino Management. I am majoring in communication which fits for many jobs. Especially in Macau, there are lot of casinos and hotels where my major is suitable. I like talking and I like communication so it works well for me. I may even do OPT (Optional Practical Training) during my long break. I want to work in America but there is a lot to think about.
6. What things have you done to reach your personal and academic goals?
I have planed out my schedule in order to finish my degree. It forces me to learn to do things in control and have planning. I have also volunteered in the "new student orientation" at Seattle Central Community College as well as the Red Cross. At the Red Cross, I had to go through a long interview process as well as an orientation session. After I got selected, I could choose which kind of work I wanted to help out in. I usually help with translation.

7. How has studying abroad changed you?
When I first came to Seattle, I lived with an Indian Family who has been living here for about 10 years and their kids are the first generation here in the US. I had to adapt to a family that has a totally different background than me. I learned to be more independent, communicate better, and be outgoing. It was a nice experience.
8. What are your favorite things to do in Seattle?
My most favorite thing to do is gathering and hanging out with friends.I like sitting in the library or cafeteria during my spare time because I can read, enjoy my personal time and also make new friends from different countries.